International Students at UR Nursing
The University of Rochester School of Nursing welcomes international students to our vibrant and diverse learning community. We're excited for you to learn more about our top-ranked academic programs, incredible research opportunities, and life in Rochester. We're also here to help you understand the application process and specific admission requirements for international students. 


Programs for International Students
An international student is anyone who needs a temporary visa to study in the United States. Permanent residents of the U.S., undocumented immigrants, and refugees are not considered international students. If you have questions about visas or immigration status, contact the University of Rochester International Services Office.
International students are particularly interested in the following programs offered by the University of Rochester School of Nursing:
---
Accelerated Nursing Programs
To practice as a registered nurse in the U.S., you need to pass the NCLEX exam to obtain RN licensure. Our 12-month accelerated program prepares you to sit for the NCLEX exam. To apply, you need to have a bachelor's degree in a field other than nursing from an accredited school, or an equivalent degree as determined by WES or ECE.
Our Students: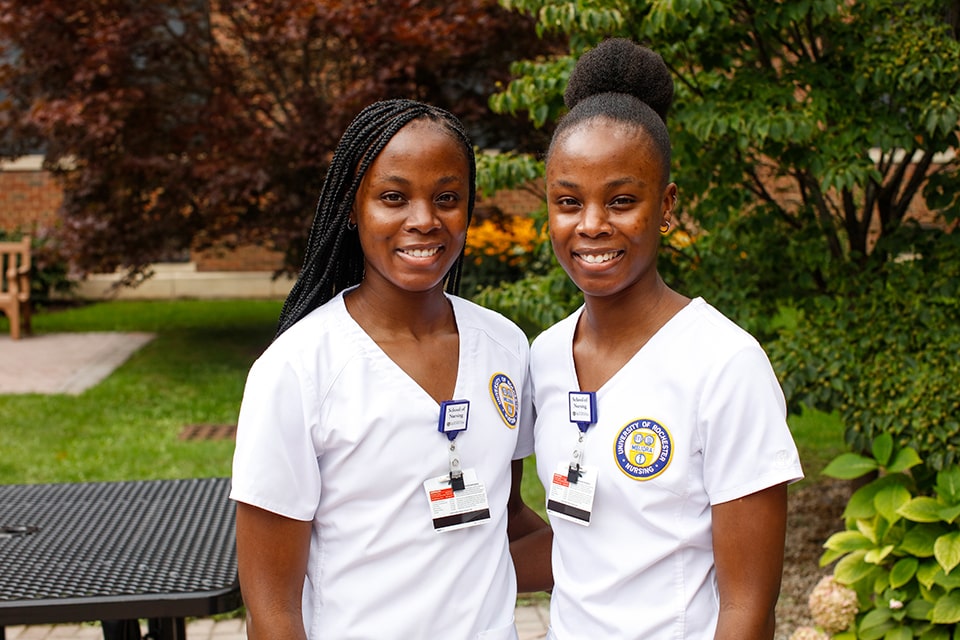 "It was a long road [from Jamaica to Rochester]. We started out at Kansas State University where we majored in nutrition and kinesiology. We went to Kansas because we each received athletic scholarships to go there. They didn't have a nursing program, so we took courses we knew would be required at nursing school, and we researched schools with great nursing reputations. That's how we found the School of Nursing. We applied and we were both accepted to the accelerated baccalaureate program. We really wanted a yearlong program, which this school offers. The BS to RN program is perfect for us." 

Shanae McKenzie and Ranae McKenzie
Program Highlights:
94.6% 5-year average NCLEX pass rate
97% UR Nursing employment rate 12 months after graduation
Partnership with an academic medical center, providing in-depth clinical experience
Start the program in Fall, Spring, or Summer
Jump start your nursing career or pursue an advanced degree as a nurse practitioner
Learn more about the Accelerated Nursing Programs
---
PhD in Nursing & Health Science
The University of Rochester School of Nursing offers PhD students a unique and rich learning environment as an NIH-ranked nursing school at a leading academic medical center. The PhD in Nursing and Health Science program prepares its students to become nurse and health care scientists who will help educate future generations of nursing students and pioneer new breakthroughs in health care research.
Our Students
"I was a student at the National Taiwan University. We had a sister connection with Rochester so they sent a lot of med students every year for internship or observation. Rochester was a perfect fit. The program is small, but I learned so much from one-on-one interaction with my advisor. The School does their best to support us with resources, sending us to conferences, and encouraging poster presentations, to provide a great experience. The financial support was also very important and allowed me to focus on my work. The School of Nursing feels like my home."

PhD Proposal: "Nurses' Intuition in Clinical Practice: An Implicit Cognitive Process

Yu-Ching (Katie) Yang, RN
 Program Highlights:
100% Employment rate within 12 months of graduating
All full-time PhD students are 100-percent funded with full tuition waivers and an additional annual cost-of-living stipend of $25,000.
Close mentorship with nationally-recognized faculty in areas of healthy aging, sexual health and HIV, cancer and palliative care, and maternal and child health.
Partnership with an academic medical center, providing extensive research opportunities
Learn more about the PhD Program in Nursing & Health Science
---
Why Rochester, NY
Rochester is for doers. Maybe it's our size— not too big, not too small. It means we combine the best of big-city life with an intimate feel. Here's a taste of live in Rochester, with all its many flavors: 
Living in Rochester
Rochester, NY is also home to one of the nation's leading academic medical centers, the University of Rochester Medical Center. It forms the centerpiece of the University of Rochester's health research, teaching and patient care missions.
With more than 26,000 employees, URMC is the largest component of the University of Rochester, the largest private sector employer based in Upstate New York and the sixth-largest employer in the state.
---
Applying as an International Student
Program Applications and Deadlines
Please note that international students are responsible for completing the online application to the School of Nursing. International students need to apply by the application deadlines as listed on the specific program pages.
---
English Language Exams
All students for whom English is not their first language are required to submit proof of English language proficiency. Students can demonstrate proof of English language proficiency through one of the following English language proficiency exams:
Official TOEFL Scores
Official Duolingo Scores
English language proficiency test scores must be submitted officially. You may submit test scores from one or more exam type (eg. one DET and one IELTS score). You may also submit more than one exam results (eg. results from two sittings of the TOEFL iBT). Please note, however, that we do not super-score or combine sub-scores from different test sittings. We also do not accept TOEFL My Best Score results. We review your sub-scores and totals from each individual test sitting.
Exam

Required Minimum Score*

Duolingo English Test

115

IELTS

7.0

TOEFL (School Code: 2928)

Paper-Based: 560

Computer-Based: 230

iBT: 88
*Subject to change
---
Transcripts
As part of the application process, we will review official transcripts from all schools attended. The transcripts must be provided in signed, sealed envelopes. An official transcript analysis is required of all coursework completed outside of the United States by one of the following credentialing evaluation services:
World Education Services (WES) Learn more about WES services by visiting wes.org. 
Educational Credentials Evaluators (ECE) Learn more about ECE services by visiting ece.org.
International Education Evaluations (IEE) Learn more about IEE services by visiting the School of Nursing's IEE webpage. 
Verification of Financial Support
We strongly recommend that each student secure financing prior to submitting the application for admission. We recommend that international candidates identify personal or external funding options while simultaneously pursuing admission to the program, as the process often takes longer than expected.
Students must provide official bank documents or a letter of financial sponsorship that shows support for at least the first full year of tuition and living expenses. Read more about proof of financial support on the International Services Office webpage.
Loan and Scholarship Opportunities
---
Incoming International Students
Once you have been admitted to a UR Nursing program, you will be able to reference your Incoming Student Portal about your next steps to matriculating. 
Visit the International Services Office Incoming Student website for information on arriving in Rochester and additional forms and documents required prior to enrolling at the University of Rochester.
The International Services Office (ISO) will help you navigate the processing of becoming an F-1 or J-1 student. The office also issues the documentation required (F-1 I-20 or J-1 DS-2019) for eligible international students who will enroll under immigration sponsorship from the University of Rochester.
Contact the University of Rochester's ISO for information on visas, employment, and U.S. Citizenship and Immigration Services regulations, as well as general information on relocating and health care.